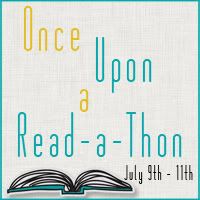 Because I'm not starting this late at all. Why do people always want to do real-life things when I'm trying to do a read-a-thon? Honestly!
My goals over the next three days are fairly simple, as I've been out into town today, I'm heading into Sheffield tomorrow and I've got a hospital appointment on Wednesday.
Part Four of Anna Karenina for the Read Along
A Touch of Power by Maria Snyder
The Strange Case of Dr. Jekyll and Mr. Hyde by Robert Louis Stevenson
These aren't exactly what I'd have picked, but I completely forgot about the Read-a-thon and so I'm at my boyfriend's with not a whole lot to choose from! Luckily, I ended up at the library this morning and came home with an armful of fantasy books. Plus, I really need to get round to reading Jekyll and Hyde for my League of Extraordinary Gentlemen Challenge.
This post is where I'll be posting my updates and linking to my mini-challenge posts, so keep checking back!
Monday
What I've been reading:

A Touch of Power

by Maria V. Snyder
Pages read:

130, as of 11:58pm
Comments:

Not the best start to the Read-a-thon. In my defence, I found out today that I was rejected for my loan to do my Bar course in September, so I haven't felt much like reading - only like alternately sobbing and scowling as I somehow need to scrape up £13,000.
I got hold of myself towards the end of the day, but then still only managed 130 pages. I probably wouldn't even have managed that many if it wasn't such an easy book.
Today #insixwords:

God-damned ****ing Law money people.
Tuesday
What I've been reading:

Touch of Power

by Maria V. Snyder and Anna Karenina
Pages read:

106 and 81 respectively, as of 11:57pm
Comments: So I'm feeling much more positive today! I woke up really late, but that's not unusual and hey, at least I'm sleeping! I've got my review of The Woman Who Died A Lot up as well as reading a tiny bit in bed, so that's good and I'm going to go get some actual reading done now! :)
I finished Part Four of Anna Karenina, which started out a bit dreary but ended up beyond awesome. It's just amazing. Well, that's one of my goals completed anyway!
I made a decent amount of progress with Touch of Power in the evening too. We watched Little Miss Sunshine, which was awesome, but cut into my reading time. Later though, Lewis turned on the Xbox so I read a little. I may have read more but the book wasn't as good as I'd expected.
Mini-challenges:

Bookish fight!
Roll up, roll up and watch the impending battle between the Cheshire Cat of Wonderland and d'Artagnan of Musketeerdom! Bets are being taken for the next five minutes at odds of 3:5 Cheshire! With his superb disappearing act, will the young Gascon be able to find the feline? Or will his rapier sharp... uh, rapier, save the day?
Today #insixwords:

Anna Karenina

takes up much time!
Wednesday
What I've been reading:

A Touch of Power

by Maria V. Snyder (still)
Pages read:

154, as of 11:36pm (finished!)
Comments: Uhh... I think I've accidentally been taking part in a buy-books-to-read-a-thon instead. I've only read 60 pages so far, but I may have obtained a further ten books. I know, right? My little TBR arrow on the right hand side is up fourteen books and it's not even halfway through the month. So much for having a minus-month.


Well, I finally finished Touch of Power with half an hour to spare! I clearly didn't complete my goals, but I'm glad I caught up with the Read Along and I finished this one. I couldn't really have read more today though - it's the other days that let me down!
Today #insixwords:

Uncompleted goals? Ah well, I'll survive.